Courses and Workshops
re-balance pilates studio + GYROTONIC® + GARUDA®
The Hague, The Netherlands
---
We have hosted and organised many international education courses and workshops since the stirrings of re-balance pilates studio plus in the mid-1990's, and we continue our tradition as a pilates host centre in The Hague.

Exercises on pilates large equipment are a fundamental part of the Method, and any studio claiming to instruct genuine pilates sessions will offer them. Joseph Hubertus Pilates created the Chair, Reformer, Cadillac, Barrels and Magic Circles®, and made many other interesting journeys into experimental furniture items (a v-shaped bed for example!)

Since Pilates' death in the 1960's there have been many innovations around the large apparatus, but in essence the work remains close to his original intentions - tools for the improvement of the strength and flexibility of the human body, about which he was passionate. The matwork exercises created by Pilates represent only a small part of the huge repertoire of exercise possibilities offered by his inventions. Studios invested with pilates large equipment therefore complete as near as possible the idea of fitness carved into it by Pilates' driven direction and vision.


---

Entirely NEW to The Netherlands

and the London UK 2016 Symposium in November!

A 7-hour course certifying you to instruct group or private sessions using the new HALO®
created by elite IT (Instructor Trainer) and Osteopath Wayne Seeto.

(Instructor Trainer (IT) Michele Carini)

Sunday, 27th November 2016 9am - 4pm sharp start to finish.
0.7 CEC's (Continuing Education Credits)-if applicable.

All movement professionals/enthusiasts welcome!



The Halo® program is designed for fitness instructors teaching group classes and individual clients. More than just a prop, the Halo Trainer is featured as the basis for a complete training program that allows instructors to manipulate exercise attributes and intensity in individual training plans. Incorporating the basic science behind core-integrated body weight training, the unique design of the Halo Trainer and the use of a Stability Ball and additional small props, gives fitness trainers extensive and highly applicable tools. The Halo Instructor Foundation Course presents the concepts of interval training principles and variables, the theories of both timed and repetition-based programs, and exercise sequences that progress through the beginner, intermediate and advanced levels.


9 spaces left only, so it's wise to book now! Contact details below:

1 hour lunch
(If you have special needs please bring your own)

Prices based on the London Symposium:

** Early booking before October 17th: **
** €295 (excl btw) **
** Plus a pair of Toesox **

Our studios and garden will be free of clients/observers, enhancing concentration and relaxation to study.

Please contact to secure a spot via:
WhatsApp/SMS: 0629025515
Studios: +310(70)3639914
email: info@re-balance-studio.nl


Weekly Flash classes and available spots are soon to be posted on our site.


---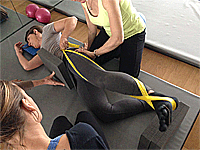 ISP-Injuries and Special Populations (ISP)
---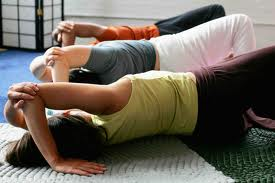 Feldenkrais Methode


---


Facial expression Workshop


---


Singing Workshop


---

Intensive and Advanced Barrels courses

with Michael Christensen, Denmark


---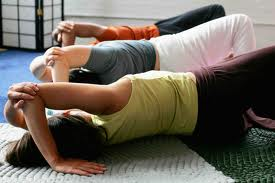 Feldenkrais Methode


---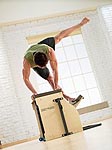 Intensive Chair course (ICHR)



---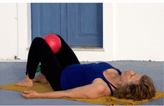 Psoas Workshop




---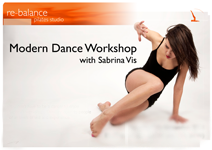 Regular Modern Dance Workshop



---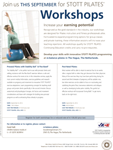 Two Pregnancy Workshops

Prenatal Pilates with Stability Ball™ and Flex-Band® - 0.2 CECs

Postnatal Pilates - 0.2 CECs

Also on the same day there was a one hour Masterclass for Pilates and the Barre.


---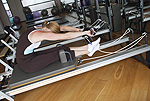 Intensive Reformer

(Course IR) - Level 1, 50 hours - 5.0 CECs.


---




Anatomy Trains - Myofascial Meridians in Movement





---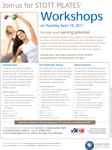 Three instructors workshops on one day

Workshop 1 - Total Body Toning with Toning balls
Workshop 2 - Advanced Matwork
Workshop 3 - Matwork with mini-stability ball




---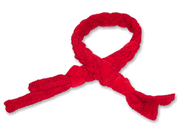 Fletcher Towel Work Masterclass



---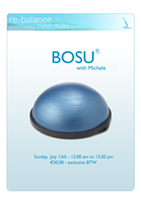 Two worksops: Intermediate BOSU and Postural Analysis





---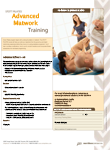 Advanced Mat




---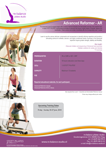 Advanced Reformer




---


Theatre Workshop





---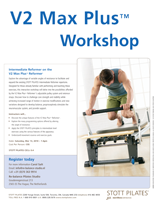 Intermediate Reformer on the V2 Max Plus™ Reformer




---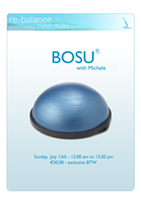 Pilates on the BOSU® Balance Trainer